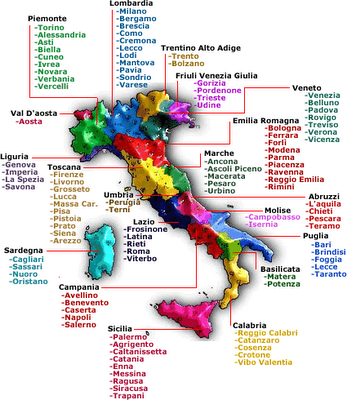 Italian wine is one of the most difficult regions to get to know due to all the different grape varieties.
   There are 3 major regions that produce the most high quality drinking wines and they are:         Piedmont, Veneto and Tuscany.
---
PIEDMONT
                                       Michele Taliano  Winery                                 
   The farm taliano michele is located at montà, in the land of roero. It has vineyards not only in roero, but also in the zone of barbaresco, precisely at san rocco seno d'elvio (alba). This estate was born in 1930 with Domenico Taliano, but its roots are deeper.
THE CLASSICS
THE FANTASY
THE TOP
MOSCATO D'ASTI DOCG & BIRBÈT
---
TUSCAN
Antinori Chianti Classico
The Antinori family has been in the wine business since 1385, but don't be fooled by the long history – here you won't find dusty archives but an active and prolific wine empire which boasts two of Italy's top wines: Solaia and Tignanello
Built entirely with locally sourced materials, respectful of the surrounding environment and preserving with great care the Tuscan landscape, it's a milestone in the history of the Marchesi Antinori company and it took seven years to complete.
Today the winery has opened its doors to wine enthusiasts, allowing them to come into direct contact with their expert winemakers.
Pèppoli
Chianti Classico
90% Sangiovese, 10% Syrah e Merlot
CLASSIFICATION: Chianti Classico DOCG
BLEND: Ruby red in color with purple highlights, the wine shows intensely fruity notes of cherries and red currants on the nose which fuse very well with the typical sensations of violets which characterize Chianti Classico. Very delicate
Villa Antinori

Chianti Classico Riserva
90% Sangiovese, 10% Cabernet
CLASSIFICATION: Chianti Classico DOCG Riserva
BLEND:An intense ruby red in color, Villa Antinori 2013 shows aromas of red fruit well amalgamated with spicy and balsamic notes. The palate is ample and enveloping and features firm and supple tannins. The wine is very persistent and the aftertaste brings back the notes first felt on the nose.
Vin Santo

Chianti Classico
Predominantly Trebbiano with a small percentage of Malvasia
CLASSIFICATION: Vinsanto del Chianti Classico DOC
BLEND: A deep amber in color with golden highlights, the wine, on the nose, shows notes of dried fruit, hazelnuts, chestnuts, and honey along with citrus fruit. The palate is full with a return of the honeyed notes invigorated by a bracing and vibrant acidity.
                    CONTACT:
Website: http://antinorichianticlassico.it/
Phone: +39 055 2359700
MAIL: visite@antinorichianticlassico.it
---
VENETO
Le Bignele
Each wine and each vintage has got its own story and its particular processing, but all wines always have something in common. As a matter of fact, we produce at present only red wines, by using grape varieties such as Corvina, Corvinone, Rondinella and Molinara.
Doséto del Nonno – Rosso Verona I.G.T
Specifications: Wine made from grapes from a single
piece, from which it takes its name.
Dry wine bright red and easy to drink, has a fresh, vinous and dry.
 
Alcoholic content: 13,50% vol.
Valpolicella Classico Superiore D.O.C.
Specifications:  Garnet-red dry wine with good body,has an intense aroma and dry flavor.
 Refinement: 1 years in oak barrels.
Alcoholic content: 12,50% vol.
Valpolicella Classico Superiore "Ripasso" D.O.C.
Specifications: Dry garnet-red wine with a strong bouquet with hints of red fruits and black cherries, rich and velvet-smooth flavour.
Refinement: 1 or 2 years in oak barrels.
Particularities: This type of wine is rested in oak casks with the pomace of Amarone
Alcoholic content: 13,50% / 14,00% vol.
  CONTACT:
Website: http://antinorichianticlassico.it
                                              Phone: +39.388.40.66.545
                                                  FAX: 0039 045 7755061
---